The WB Giveback: Drive for the United Way
December 3, 2020
On behalf of the team at WB, we are excited to launch a campaign to give back to the communities that we work, live and serve in. We are launching this campaign with the support of the WB Staff Fund and Associa, matching all donations from staff, clients and vendors up to $10,000! This means that the WB network alone could provide $20,000 or more to help meet the needs of our community, particularly in this difficult time.

We invite you to REGISTER for our launch event webinar where special guest Glenn Harkness, Executive Director of the Boys and Girls Club of Hamilton, will speak about the impact that this campaign will have on his organization and others supported by The United Way.
The WB Giveback: Drive for the United Way – Campaign Launch
Join us for a webinar on Dec 07, 2020 at 4:30 PM EST.
How can you donate?
Go to: https://secure.uwhh.ca and insert the below User ID and password to make a donation.
User ID – wioc2020
Password – uway2020
You do not need to be in attendance at the campaign launch webinar in order to donate – donation for this specific campaign can be made any time until December 31, 2020 and tax receipts will be issued by United Way for any donation of $25 or more.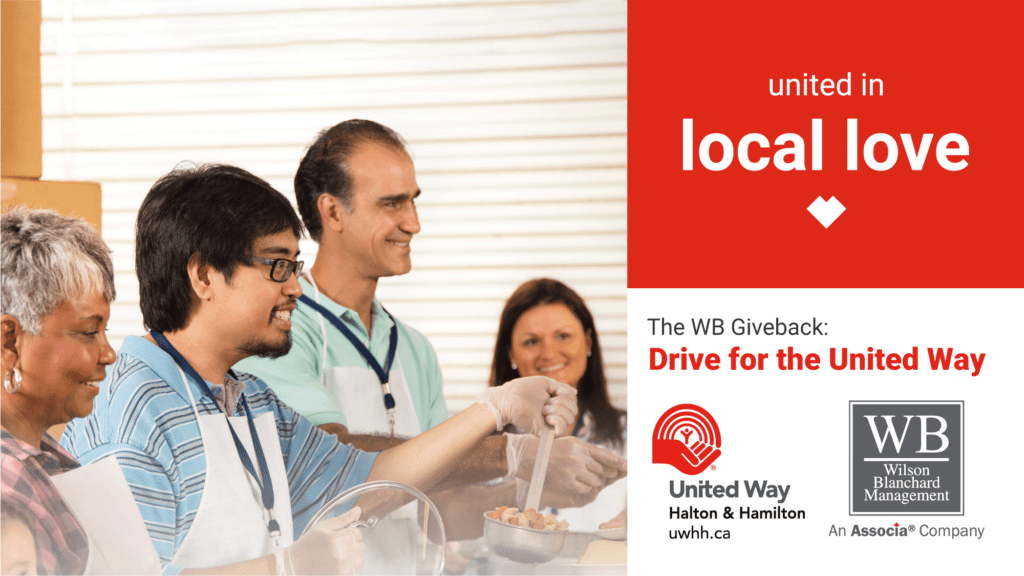 Why The United Way?
United Way's mission has always been to support the people most in need of help.
As a result of COVID-19, more people are now on the edge of crisis, facing significant barriers, such as poverty, mental illness and isolation. Individuals and families have been pushed to their limits, and the social sector is being stretched beyond its capacity to serve them.
When faced with great uncertainty and difficult times, we know that COMMUNITY MATTERS.
Next to government, United Way is the largest investor in the critical social safety net in the community​. We sustain a network of 64 agencies in the region delivering 128 programs that serve over 200,000 people annually.
United Way ensures that dollars go to the people and places that need it most. The federal government came to United Way when they wanted to distribute COVID-19 funding quickly and with the deepest impact.
The United Way network has the size and scope to build partnerships for stronger solutions. ​ Within weeks of the COVID-19 crisis, United Way convened local governments and our network of agencies to support community during this unprecedented crisis.
United Way invests in impactful and effective agencies. Through research, consultation, and due diligence, United Way knows where the need is, and invests donations where they will have the greatest results.
A Message from WB President, Brad Wells:
"Working at WB, I am honoured to work with colleagues that have already shown great generosity during this difficult season of crisis for many. The participation from the WB team in food drives, coat drives, and holiday gifts for those in need have been truly remarkable acts of kindness. This campaign is just another way to give back to our communities.
On behalf of all WB staff, we are blessed to be gainfully employed during this pandemic, working in an essential service. Many in our community have not been so fortunate and we have enormous strain on our social assistance programs. Please join us, if you are able, and no matter the amount, to participate in this campaign to help The United Way send money and resources to those most in need this season."